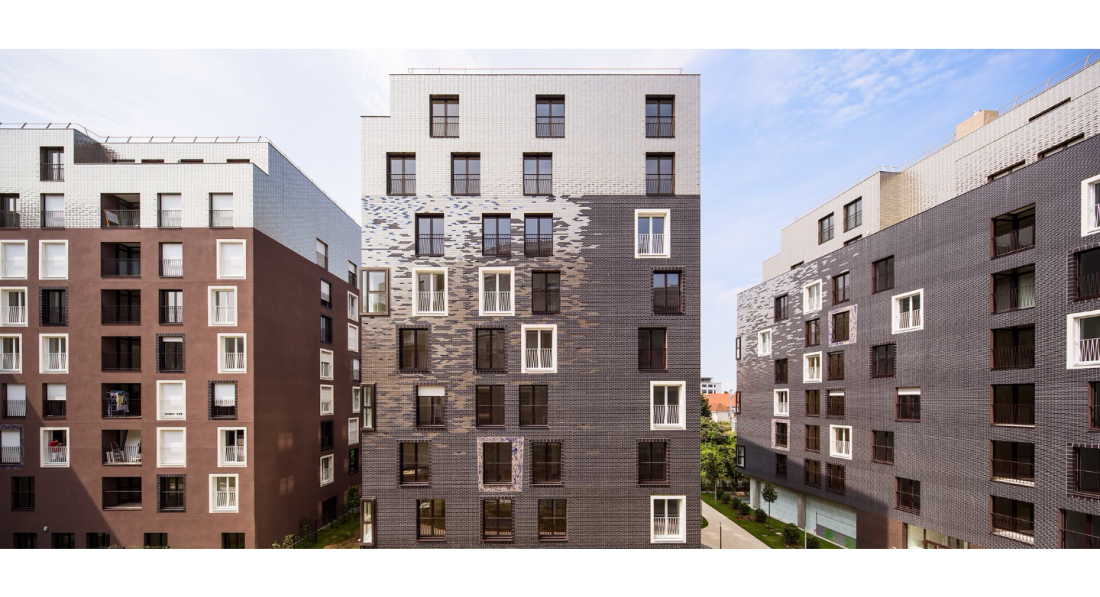 ATELIER(S) ALFONSO FEMIA THE SKY ABOVE ASNIÈRES-SUR-SEINE
This project is composed of 184 new housing with parkings and a store of 360 sqm in the Bords-de-Seine urban development zone of Asnières-sur-Seine. The projetc ownership is Asnières Seine AB represented by Eiffage and Coffim.
All the project is built in a high environnemental quality and will be labeled RT 2012.
Le ciel sur Asnières-sur-Seine, signed Atelier(s) Alfonso Femia, has been completed in 2016.
The project is situated between the end and the beginning of an urban axis of fundamental importance for the whole city because of the forthcoming opening of a major train station for the Grand Paris Line. The trapezoidal shape of the area of the project is particularly evident in the aerial image.
The project was developed thanks to an analysis of possibilities: the atmosphere, the landscape light, the environmental constraints and the formal game that consists in a series of cuttings, openings, slidings defining the three bodies of the building.
The city is in continuous dialog with the internal park, creating a building/landscape rhythm. The architectural writing of the project is based on this notion of rhythm (openings, materials, treatment of the top floors): it favors, in a common grammar, the diversity of the urban landscape created between city and nature.
The project is characterised by a reaffirmation of the decor with the use of ceramics and the ornamentation of the façades represented by six angels.
The two façades situated on the edge of the site benefit from a specific treatment. The northern façade gives onto the area in front of the RER regional high-speed train station and acts as an entrance to the urban development zone. The shop on the ground floor has a completely glass façade. As for the south façade it presents the urban face of the project along with the car park, it is in total contrast with the glassfronted façade to the north.
CREDIT BY:
https://divisare.com/projects/367571-atelier-s-alfonso-femia-the-sky-above-asnieres-sur-seine